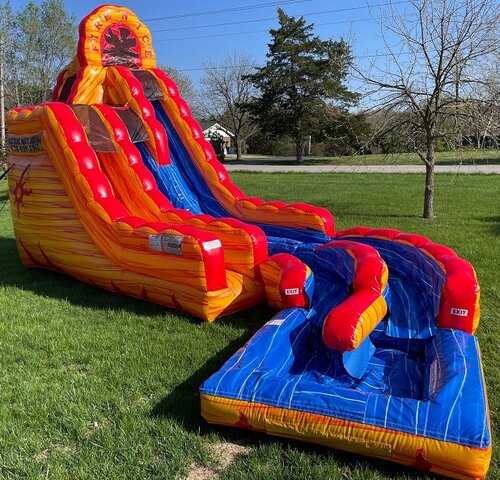 20' Fire & Ice Water Slide
Actual Size: 34' x 17' x 20'
Setup Area: 40' x 20' x 20'
Outlets: 1 110V Outlet within 100ft
Age Group: 3 years and up
Attendants: Min. 1 Adult




Introducing the sensational 20' Fire & Ice Water Slide, a captivating inflatable masterpiece engineered to deliver thrilling aquatic adventures with paramount safety measures. This commercial-grade slide stands tall at 20 feet, embodying a fiery and icy theme while ensuring an exhilarating yet secure water slide experience, ideal for participants of all ages.
Key Features:
20-Foot Height: Towering at an impressive 20 feet, this slide guarantees an adrenaline-packed descent, promising an exciting ride while prioritizing safety at every curve and twist.

Designated Climb Ladder: Positioned strategically at the front for optimal visibility, the climb ladder invites participants to ascend confidently and embark on an exhilarating journey down the water slide.

Safety Netting: Equipped with robust safety netting at the top, this inflatable ensures a secure enclosure, providing an added layer of protection without compromising the excitement of the slide experience.

Dual Sliding Capability: Allows two participants to slide down simultaneously, doubling the fun and excitement for friends or family members eager to enjoy the slide together.

Curving Water Slide: The highlight of this attraction is the water slide element, designed to curve gently, offering riders an electrifying, twisting descent along with a refreshing splash, while safety measures ensure a controlled and safe ride from start to finish.
This 20' Fire & Ice Water Slide is meticulously crafted to prioritize participant safety without compromising the thrill of the water slide experience. Suitable for various events, including backyard festivities, school functions, church gatherings, or corporate affairs, this inflatable guarantees aquatic enjoyment in a secure environment. It combines the exhilaration of a water slide with meticulous safety features, promising enduring memories and an atmosphere of excitement for all participants.