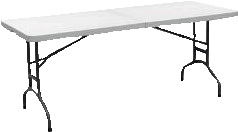 Tables
Our versatile 8' Table, an ideal addition to accommodate gatherings of all kinds. Measuring 8' x 3', this table comfortably seats up to 8 adults or 10 children, making it perfect for backyard parties, school functions, church gatherings, or corporate events.
Key Features:
Size: Spacious 8' x 3' dimensions offer ample seating and serving space.

Seating Capacity: Seats up to 8 adults or 10 children comfortably.

Versatile Use: Suitable for various event settings, including backyard gatherings, school functions, church events, or corporate affairs.
The 8' Table is a practical choice, providing ample space for seating or serving needs. Versatile and accommodating, it ensures convenience and comfort for guests, making it an excellent addition to diverse indoor and outdoor events.