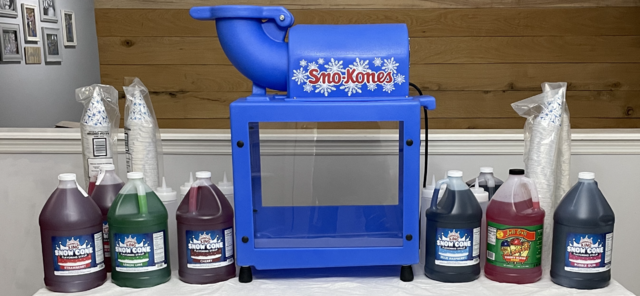 Sno Cone Machine (50 Servings)
Outlets: 1 110V Outlet within 100ft
Attendants: Min. 1 Adult




Our delightful Sno Cone Machine with 50 servings, perfect for adding a refreshing touch to any event. This summertime favorite comes equipped with supplies for 50 servings and offers a variety of flavors, making it an ideal choice for backyard parties, school functions, church gatherings, or corporate events.
Key Features:
50 Servings Included: Supplies for 50 servings provided, ensuring hassle-free operation.

Multiple Flavor Options (Pick 1): We offer a diverse range of flavors to cater to different tastes, let us know in the customer comments which you two flavors you would like. (Cherry, Blue Raspberry, Lemon-Lime, Tigers Blood)

Summertime Favorite: A beloved choice for warm-weather events, adding a cool and refreshing treat.
The Sno Cone Machine is a crowd-pleaser, adding a delightful twist to any occasion. Perfect for keeping guests refreshed and satisfied, making it an excellent addition to various indoor and outdoor events.