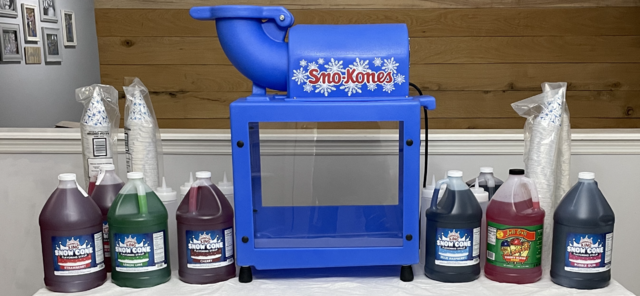 Sno Cone Machine (50 Servings)
Perfect Hot Weather Treat!
Rent a Sno Cone Machine for your next summer-time event! The machine comes with enough supplies for 50 people. This includes 1 gallon of syrup, 50 - 6oz. paper cones, and the Sno Cone Machine. You can chose 1 of the 8 flavors we have. Our flavors include: Strawberry, Watermelon, Lemon-Lime, Grape, Cherry, Bubble Gum, Blue-Raspberry, and Tiger's Blood. All you have to provide is 30lbs of ice! This does require a nearby outlet and will need a table to sit on. If you do not have a table and need to rent one, check out our table and chair rentals! If you decide to rent our Sno Cone Machine, while checking out, please let us know which sno cone flavors you would like in the customer comments box. If you are needing more than 50 servings of Sno Cones, check out our Sno Cone Machine (100 Servings).