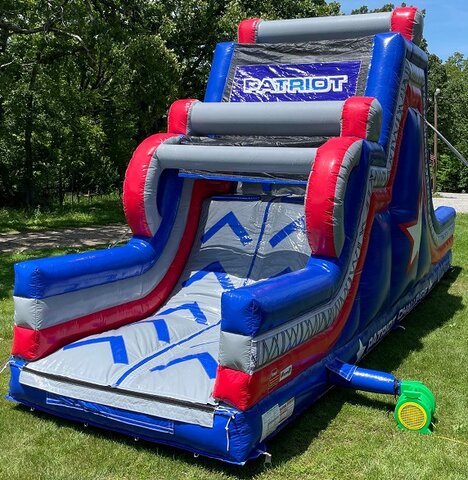 34' Patriot Warped Wall
Actual Size: 30' x 11' x 16'
Setup Area: 40' x 15' x 16'
Outlets: 1 110V Outlet within 100ft
Age Group: 5 and older
Attendants: Min. 1 Adult




Introducing the thrilling 34' Patriot Warped Wall obstacle course, a testament to American pride and a challenge for the adventurous souls! This patriotic-themed course spans 34 feet, offering an exhilarating journey filled with obstacles designed to push participants to new heights. Perfectly suited for various occasions, from backyard parties to school events, church functions, or corporate gatherings, this course guarantees an exciting and stimulating experience for participants aged 5 and older.
Key Features:
Patriotic Theme: Celebrates the American spirit with striking USA-themed visuals, inspiring patriotism and determination throughout the course.

Challenging Obstacles: Features a high warped wall that participants must scale, requiring speed, agility, and determination to conquer, followed by grabbing another ledge before descending down a thrilling slide.

Dual Racing Lanes: Allows two participants to race simultaneously, encouraging friendly competition and enhancing the challenge.

Age Suitability: Tailored for kids 8 and older, offering an engaging and age-appropriate challenge for a wide range of participants that can help themselves up a high wall.

Versatile Use: Ideal for diverse events, ensuring excitement and engagement for various age groups and gatherings.

Safety Considerations: Constructed with safety in mind, providing secure and padded elements to facilitate a safe and enjoyable experience for participants.
The 34' Patriot Warped Wall obstacle course presents an exhilarating and challenging adventure for the daring. With its patriotic theme and thrilling obstacles, this course is bound to captivate participants at any event, fostering an atmosphere of determination, accomplishment, and patriotic spirit. Whether for smaller family gatherings or larger events, this course promises an exciting and memorable experience for all involved.