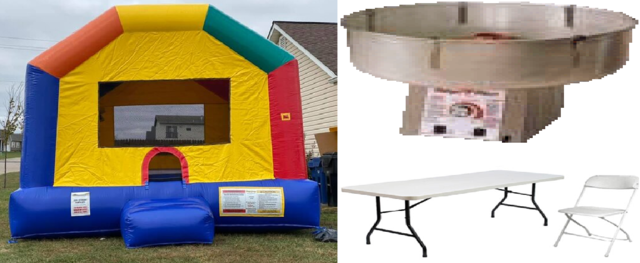 Fun House & Cotton Candy Party Package
Outlets: 2 110V Outlet within 100ft
Age Group: All Ages
Attendants: Min. 1 Adult




Celebrate in style with our all-inclusive Fun House Party Package, designed to elevate your special day! This comprehensive package features a vibrant Bounce House that promises endless entertainment, complemented by a delightful Cotton Candy Machine offering 50 servings of sugary delight. Additionally, the package includes 2 sturdy tables and 16 chairs, ensuring comfort for your guests. Perfect for various events, from intimate backyard parties to larger school, church, or corporate gatherings.
Key Features:
Bounce House: Vibrant and themed for an exciting atmosphere, ensuring fun for children of all ages.

Cotton Candy Machine: Provides 50 servings of sweet, fluffy treats in various flavors.

Tables and Chairs: Includes 2 tables and 16 chairs for convenient seating arrangements.

Versatile Use: Ideal for different event settings, ensuring a delightful celebration anywhere.

Comprehensive Package: Offers diverse entertainment options and seating solutions for hassle-free party planning.
The Fun House Party Package presents a stress-free, all-inclusive solution for an unforgettable party. From bouncing joy in the colorful Bounce House to relishing delicious Cotton Candy and providing comfortable seating for guests, this package guarantees a joyous and memorable event for all attendees. It's the perfect choice for those seeking a complete and entertaining package to make a party truly awesome!